The Country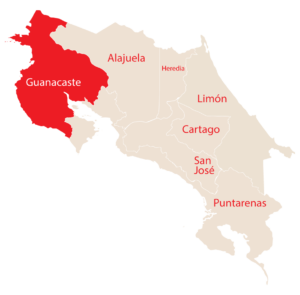 Official Name: Republic of Costa Rica
Costa Rica, which means "the rich coast," has many mountain ranges and numerous volcanoes.
Capital: San José
Location: Central America; Nicaragua is to the north and Panama to the south; the Caribbean Sea is to the east and the Pacific Ocean to the west.
Size: 51,100 square kilometers (19,729 square miles), about the size of the states of Vermont and New Hampshire combined.
Climate: Tropical and subtropical; a dry season (December to April) and a rainy season (May to November); cooler in the highlands.
Provinces: San Jose,  Puntaneras, Cartago,  Limon, Heredia, Alajuela and Guanacaste.
Our Field:
Province of Guanacaste: Approximately 321,000 people with 11 Counties. In the County of Santa Cruz, our field, approximately 61,000 people as of now.
The People
Population: 4.48 million (as of July 2009)
Official Language: Spanish. Creole is also spoken by the Caribbean blacks. In addition to Spanish and Creole, there are numerous Indian dialects.
Official Religion: Roman Catholic, but there is freedom of expression for other beliefs.
Life expectancy: 79.3 years
Literacy rate:  96%
The Government
System of Government: Democratic Republic
Executive Branch: A President and two Vice Presidents are elected on the same ticket by popular vote for four-year terms. The cabinet is selected by the President.
Administrative Divisions: 7 provinces (Alajuela, Cartago, Guanacaste, Heredia, Limón, Puntarenas, San José) divided into 81 subdivisions (cantones), which are then divided into 421 districts.
Local Currency: Colón (named after Christopher Columbus)
Independence: September 15, 1821 (from Spain)
The majority of this information was taken from the Embassy of Costa Rica's official web site.